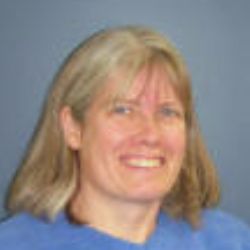 Kris Worrell,OTR/L, SIPT: RDI® Consultant
Founder and Executive Director
I have specialized in treating children with sensory integration disorders for over 20 years. This has included working with children on the Autism Spectrum as well as other special needs populations. I grew up with a brother and aunt who had developmental disabilities, and quickly realized that I was comfortable and effective working with children and adults with these difficulties. With RDI® principles and stepping stone objectives, I have a plan, I know the steps, and I can guide parents and their children through the processes. It has been wonderfully rewarding to hear the stories and see the changes families are experiencing as a result.
Mary L. Wandrei, PhD, LP
Psychologist
Mary is a psychotherapist with offices in White Bear Lake, MN. She specializes in assessment, coaching, and psychotherapy for gifted and talented and twice-exceptional children and adults; Asperger's Syndrome screening/consultation; school adjustment and educational planning; and consultation around executive functioning, anxiety, depression, sensory processing, and temperament issues. She has presented on these topics to parents, educators, and mental health professionals through the MN Council for Gifted and Talented, the MN Department of Education, MN Institute for Talented Youth, Project2Excel, and other public and private conference engagements. Mary can be contacted at mary@marywandrei.com.
Meghan Dunn
Program Coordinator/RDI® Extender
Meghan has been working with children with ASD in a variety of age groups for over a decade. With this work, she has gained experience in areas such as leading day treatment, mediating in school settings, and in-home consultations. Her work has been influenced by the RDI® model since she came to Dynamic Connections. " I am passionate about nurturing a strong sense of community and a strong sense of self. I have enjoyed watching RDI strategies guide concepts like pride and empathy. I feel very blessed to be able to facilitate such celebration. I take my work seriously, which is why I'm glad I picked a field where I get to spend most of the day smiling or laughing."
Emma Worthley, BA
Tutor/RDI® Extender/Administrator
Emma began tutoring children with special needs five years ago in a University of Minnesota Morris program called TREC. She has been working with children with autism for the past four years through various PCA services where she gained experience in speech, occupational therapy, and RDI. She earned her bachelor's degree at the University of Minnesota with a major in philosophy. She specialized in philosophy of mind and studied learning through an interdisciplinary approach composed of psychology, biology, circuits, and computer science. She continues her work in circuits and electronics with her small guitar pedal business, EAR Electronics LLC.
Molly Olson, COTA
Occupational Therapy Assistant/RDI® Extender
Molly has been working as a certified occupational therapy assistant since 2012. During her schooling she had fieldwork opportunities in the school systems where she developed her passion for working with children with Autism and other developmental and physical disabilities. She graduated from St. Catherine University in May of 2012 and worked with the aging population in a physical rehabilitation facility for three years. Molly is excited to be a part of the Dynamic Connections team because it is such a refreshing approach to working with individuals with Autism. Molly loves to watch people grow, learn and develop and be proud of the accomplishments they have made.
Ashley McCormick,MS, CCC/SLP
Speech Therapist
Ashley received her Bachelors degree in Communicative Disorders at University of Wisconsin - Madison and Masters degree at University of Wisconsin - Stevens Point. She enjoys working with the children as well as their families to develop a strong relationship to help make the most progress possible. Ashley's areas of interest include Augmentative and Alternative Communication (AAC), PROMPT technique, video self-modeling, various pragmatic interventions, and early child language development. In her spare time, she enjoys running, biking, hiking, cooking, and watching different sporting events.
Kari Murlowski
Brain Gym® Guru
Kari founded The Integration Station in 2002. She named it thusly based on her unique practice. Upon determining the client's right/left brain hemisphere dominance, Murlowski uses specific movements or exercises for full integration so neither side is dominant and there is balance. A 13-year holistic educator and health practitioner with more than 600 hours studying holistic modalities, including aromatherapy, emotional release and Brain Gym therapies, she helps her clients release emotions stored in their cells, leaving them energized to live productive lives. http://www.natwincities.com/Twin-Cities/November-2015/Holistic-ER-with-All-Natural-Kari/